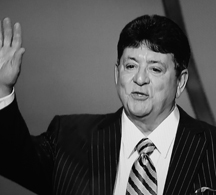 Edward J. DeBartolo Jr.
Eddie DeBartolo Jr., 69, who grew up in Boardman on Danbury Dr., and later on Southwoods Dr., 'made it,' on his fourth and final consideration, for the Pro Football Hall of Fame, it was announced last Saturday night during nationally-televised ceremonies in San Francisco, Calif., on the eve of Super Bowl 50.
Eddie, at the age of 31, and his father, American shopping mall pioneer Edward J. DeBartolo, bought 90 per cent of the San Francisco 49ers in 1977 for a little less than $17 million.
''When the 49ers were available, I contacted the Morabito ladies and made the deal. We paid less than $17 million for 90 percent. And then I turned the club over to Eddie and he's done it. He has the whole financial obligation," Mr. DeBartolo said of the deal.
During the first years under Eddie, the Niners franchise didn't win, spurring much criti
...Read More >>