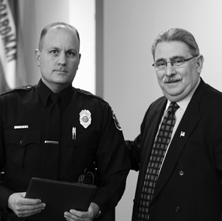 Officer Robert Spatar
In the morning hours of Aug. 12, 2014, near 7:00 a.m., Boardman police patrolman Robert Spatar was on routine patrol in the area of Victory Christian Assembly, 8590 Hitchcock Rd. when he saw a car in an otherwise empty parking lot.
As he drove close to the Honda, he observed the car's engine was running and a tube was connected to the tailpipe, stretching into the rear seat area of the car.
Officer Spatar, who has served Boardman for 16 years, got out of his cruiser and found a man in the rear seat of the vehicle, apparently ingesting fumes from the tube.
He immediately called for fire department emergency medical personnel and pulled the man out of the car.
The actions of the policeman saved the life of a 59-year-old Deer Path Dr. man.
"Great, I can't even do thi
...Read More >>