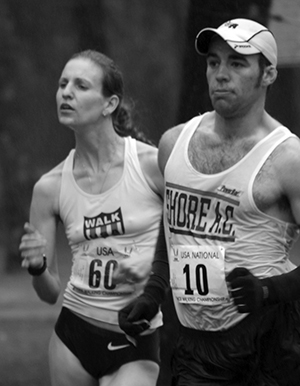 MIKE MANNOZZI
Michael Mannozzi, 27, of Erskine Ave., has been named to the Team USA World Cup Team in race walking, and will compete at the World Race Walking Cup 20k in Taicang, China on May 4.
Mannozzi finished eighth overall at the IAAF (International Association of Athletics Federations) World Cup Trials in the 20k Masters Open Race walking event, with a personal best time of 1:31:1. The trials were held in Manchester, New Jersey on Mar. 30.
Mannozzi is the reigning United States national champion in both the 30k and 40k race walking events, having won those events in September and October, 2013.
Mannozzi competed in the 2012 Olympic trials in both the 50k (31 miles) and 20k (12.4 miles) events, placing ninth and fifth overall, respectively. He is currently looking to compete in the 2016 summer Olympics in Rio de Janeiro as well as the 2020 summer games in Tokyo.
A 2005 graduate of Boardman High School, Mannozzi attended Youngstown State University and then graduated from Notre Dame College in Cleveland, where he earned an NAIA national race walking championship in 2010.
He currently works as a day camp counselor, while also filling-in at the D.D. and Velma Davis Family YMCA in Boardman. Mannozzi is known as "The Italian Stallion of USA Track and Field" by many, including Olympic legends such as Dan O'Brien.
"I attribute a lot of my success to the help I get from Dr. Michael Lyons at Advanced Chiropractic and Rehab in Boardman. Race walking is very hard on the body and Dr. Lyons has been a great asset to my training, by helping me to reduce stress injuries, increase my flexibility, and speed up recovery. With his help, I am able to compete at a high level while remaining injury free." says Mannozzi.
Mannozzi also gets a lot of help from Mike Rohl, head men's track coach at Mansfield University, who was a four-time Olympic Trials competitor, finishing fourth in 2000 in the 20k; and Bob Gray, a race walker from Eugene, Oregon. Gray is also a marathoner and is the only Olympic Trials athlete ever to compete in the both marathon and the race walks in the same Olympic trials (1972).
Top race walker in the field of some 28 competitors at the World Cup trials was John Nunn, of Bonsall, Calif. who posted a time of 1:26.45.