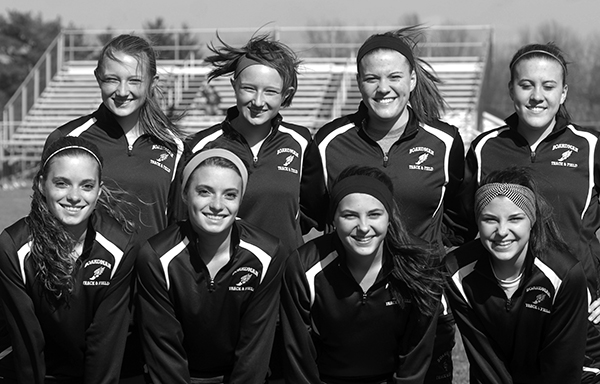 THE BOARDMAN HIGH SCHOOL girls tack and field team has four sets of twins on this year's squad. They are, in front, from le
Fans who attend track and field meets of the Boardman Lady Spartans might have to look twice, if not more, to determine just who is competing in one event or another.
That's because this year's team has four sets of twins on its roster.
Boardman Head Coach Denise Gorski has been at the helm of the Lady Spartans for more than three decades and she says "I have never had three sets of twins, let alone four. I think it's very unique and special. I love to watch how they all support each other in an extremely positive way."
Twins on this year's Lady Spartans roster cover all four classes at Boardman High School.
Senior twins are Regan and Heaton O'Hara. Junior twins are Brandi and Breanna Gatte. Sophomore twins are Celeste and Hailey Snyder. And freshman twins are Abbey and Emily Evans.
"It's been great to have my twin by my side supporting me throughout my running career, and pushing me to do the best I can," says Brandi, while her twin observes "It definitely brings out my competitiveness but I want Brandi to compete just as well as me."
Regan O'Hara says running with her twin sister presents great competitive challenges.
"Running with your twin presents a great challenge, but at the same time you both want each other to run to the best of their ability," she says.
Her sister, Heaton, sees an advantage to the twin concept.
"There's a certain competition to it, but all in all it pushes you to become a better runner," Heaton observes.
Celeste Snyder says running with her 'other half' makes everything more special, while her sister, Hailey says she "loves having my twin supporting me and encouraging me to run harder."
First year members of the Lady Spartans track and field team, the Evans sisters, also enjoy their counterparts as teammates.
"It's comfortable having someone so close to you, because you know they always have your back," says Abbey, while sister Emily says "Having your twin on the team is fun because you always have someone to run with."
The Gattes and O'Haras have been an integral part of the Lady Spartan varsity program, not just in dual meets, but also in big meets.
"Brandi Gatte became a county champion in the 3200 meter relay team last weekend. Regan and Heaton were national qualifiers last year in relays," Head Coach Gorski said, adding the O'Hara sisters compete in the 400 and 800 runs, as well as distance relay events, while the Gatte's specialty are the middle distance events.
The Snyders run the 200 and 400 dashes, while the Evans compete in long distance events.
In 30 years, Coach Gorski can't recall ever having a set of twins on her teams.
"It's a special situation," Gorski, the dean of Mahoning Valley track and field coaches, said.