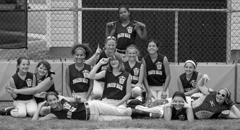 Boardman Community Baseball State Champs
Many things went Boardman's way for the Ohio state 10-11 Little League title including the coin flip won by the Spartans who chose to be the home team in action at the Fields of Dreams against the Oak Hill all-stars from southwest Ohio.
In the top of the first inning Boardman's starting pitcher, Emma Ericson, was dominant, She was able to get two infield pop-ups and a strikeout and the Boardman bats would get their chance in the bottom of the first.
Hope Burford walked and advanced to third on a stolen bases. She scored on a passed ball. Although the Spartans had the bases loaded they did not generate another run and the score after was 1-0.
In the second inning, Ericson sent three Oak Hill batters back to the dugout on strikeouts and Boardman generated two runs to take a 3-0 lead. A single by Chalyse Norvell, a walk by Kathryn O'Horo and an Ericson single gave Boardman two runs.
In the third inning, Boardman again retired all Oak Hill batters in order and through three innings Ericson had a no-hitter going and a 3-0 lead.
In the fourth, Oak Hill began to pressure the Spartan defense that showed it was up for the challenge. Andy Lewis from the Lady Oaks reached first safely to lead off the inning on an error. Kady Wright lined out to Mya Duskey and the Spartans second baseman snared the drive threw to a waiting Burford at second for a rally killing double play. The next Lady Oaks batter was Rylie Hughes who doubled into centerfield, Oak Hill's Cass Cook singled into left and upon receiving the relay Duskey threw an absolute perfect throw to a waiting catcher Lauren Maughan the Boardman catcher who tagged and held onto the ball to tag out Hughes who was trying to score.
The Spartans did not score in the fourth and in their half of the fifth the Lady Oaks could not generate any offense.
Boardman added their final tally of the game in the bottom of the fifth when Duskey and Kennedy Page walked. Norvell then plated a run with a base hit to left field.
In the sixth, the Lady Oaks would show they had fight in them. On two hits they plated a pair of runs but Ericson was able to get a strike-out to end the game.
Boardman hitting was led by Burford, Ericson, Duskey and Norvell.
Defensive standouts included O'Horo, Katie Stamp, Duskey, Maughan, Page, Sara Queen, Abby Sammartino, Emily Olexa and Josephine Madunicky.
Ericson who tossed a 5-hit, 10 K complete game.
This is the second consecutive state championship at the 10/11 level, as last year's team led by manager Brian Gorby defeated Tallmadge, 9-6, in Bucyrus, Ohio. This year Boardman earned its berth in the state title game with an 11-1 victory over Tallmadge. Serving as manager was Eric Ericson, assisted by coaches Mike Trell and John Lapinski.
Pictured: Boardman Community Baseball state champs: In front, from left, Kathryn O'Horo, Mya Duskey, Lauren 'Yogi' Maughan. In middle, from lefrt, Sarah Queen, Abby Sammartino, Kennedy Page, Emma Erickson, Hope Burford, Emily Olexa, Katie Stamp, Josephine Madunicky. On top, Chalyse Norvell.